Rocket Discover and IBM Collaboration Solutions
Rocket Discover and IBM Collaboration Solutions
Collaborative Business Intelligence
Rocket Discover, a self-service business intelligence solution that provides data visualization and discovery for business users, helps IBM® Connections customers leverage their social business platform for full business intelligence (BI) collaboration, and puts business context into in IBM Watson Workspace team interactions to facilitate fact based decision making.
These seamless integrations optimize communication via the IBM Connections framework and IBM Watson Workspace and more effectively capitalizes on data discovery with knowledge sharing across targeted teams. The result is a complete collaborative BI workflow. Connect with other users and share data files and dashboard across teams, discuss options and opinions real-time to ensure success with timely, accurate decisions and appropriate actions for best business outcomes.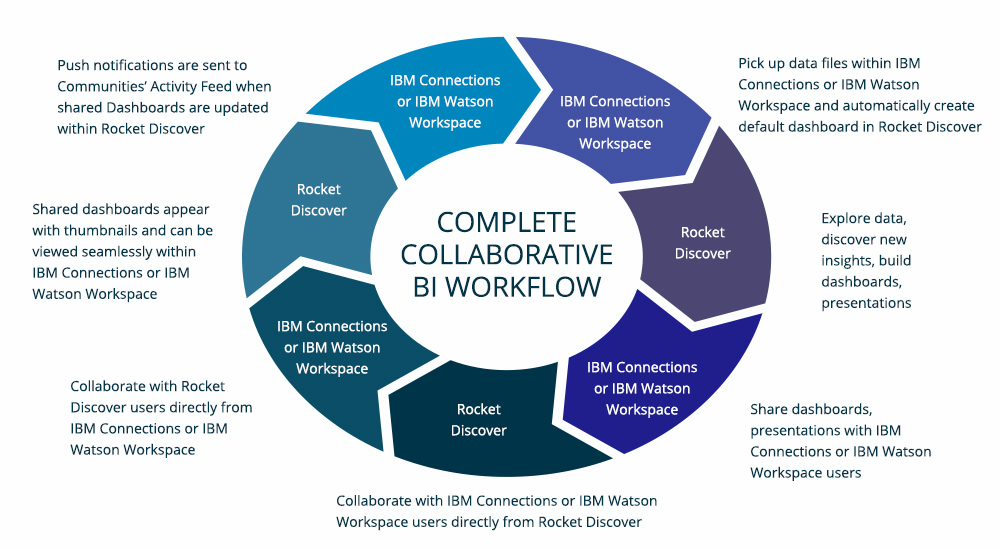 How it works
IBM Connections, or IBM Watson Workspace: Share data files from Connections /Watson Workspace so you can instantly create dashboards in Discover.

Rocket Discover: Build dashboards and presentations, and explore data for new insights.

Collaborate: Collaborate with IBM Connections or IBM Watson Workspace users directly from Rocket Discover or vice versa.
The BI collaborative workflow is completed with the following key elements:
Dashboards can be propagated to a Community's Activity Feed, Bookmarks, or Ideation Blog.
IBM Connections and IBM Watson Workspace users will enjoy an integrated experience, with shared dashboards appearing as thumbnails that can be viewed seamlessly
Discover. Connect. Succeed.
Questions? Call us:
U.S. +1 855-577-4323