Rocket iCluster
IBM iのビジネス継続性と災害復旧
企業は、サーバーのアップグレードや、バックアップ、バッチ処理などの計画停止、自然災害による計画外停止によらず、データおよびビジネスアプリケーションに常にアクセスする必要があります。Rocket® iCluster®は IBM iSeriesを搭載したIBM PowerまたはPureFlexシステム上で、ビジネス・アプリケーションに高い可用性と障害復旧のソリューションを提供します。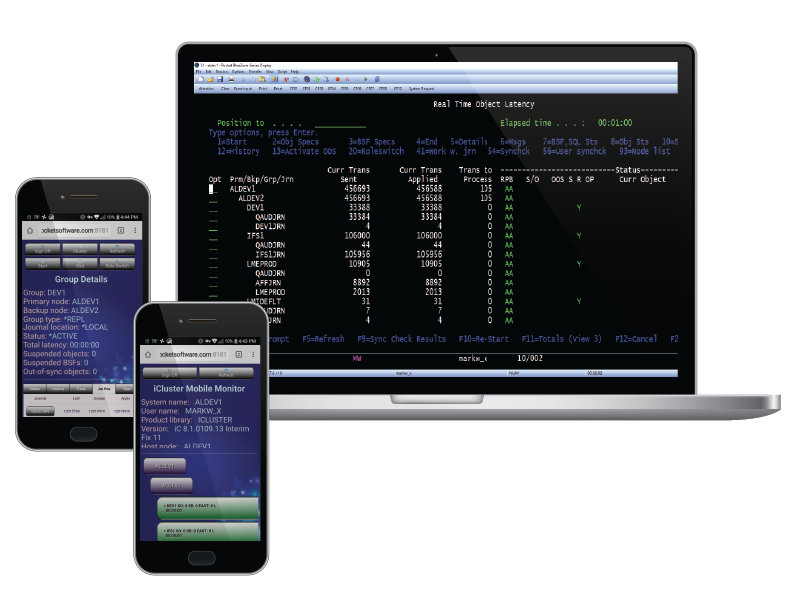 iCluster's single-point, multiple-node administration console monitors events in real time
ダウンタイムの短縮とよりスムーズな管理
Rocket iClusterは、システム監視、イベント通知を行い、レプリケーションの失敗を自動修復して、継続的なアクセスを可能にします。iClusterを使用すると、高可用性のためのリカバリ・ポイントとリカバリ時間を常に把握できます。iClusterは、本番からバックアップ・システムへの論理的でシーケンシャルなミラーリング、バイト単位の検証によって、高い正確さを備えており、同期で失敗しないようにします。ソースサーバーとターゲットサーバーの間で、常に正確なコンテンツレベルでの順にトランザクションを取得できます。
iClusterを使用するとバックアップシステムを監視可能で、最新の問題をリアルタイムで把握し、運用、管理、切り替えが容易になります。変更、追加、削除は、バックアップシステムにほぼリアルタイムで反映され、ミラーリング中に読み取り専用のビジネスアプリケーション、バックアップやクエリに柔軟かつ同時アクセスできます。自己修復機能、中断されたオブジェクトの自動再同期、常時アクティブ同期チェックにより、問題発生時にそれを特定し対応します。ユーザー定義のしきい値に基づいてアラームとアラートを自動通知することで、リアルタイムで問題を把握し、問題への対応に費やす時間を削減できます。
管理しやすい
任意のサーバーをマスターサーバーに指定して権限を与え、他のすべてのサーバーへの更新を自動的に行うことで、簡単かつ迅速に構成することができます。別のプラットフォームに特別な管理用サーバーをセットアップしたり、スイッチオーバーのために複数のサーバーで複数の構成を実行する必要はなく、iClusterを使用すると、マスターシステム1台で、構成データを他のすべてのシステムに送信することができます。どこにあるどのボックスでもマスターになれるので、構成はどのサーバーでも行えます。
iClusterは、ロールの入れ替え(完全に自動で、あるいは部分的に自動で)による高可用性、ファイル属性の同期チェック、ファイルの内容、IFS属性、オブジェクトの存在チェック、データ領域の内容、出力キュー、グリーンスクリーンまたはわかりやすいGUIによる監視、同期していないオブジェクトと中断しているオブジェクトの自動再同期を備えています。自動構成コマンド、およびソースで一度構成してからバックアップ・システムにプッシュするiClusterの機能は、高可用性とともに迅速な業務を実現します。
ビジネスをスケールアップ
優れた高速レプリケーション機能により、iClusterは業務データのサイズとトランザクション量を処理できるよう自動的に拡張します。レプリケーションは、切り替えに必要な時間を最小限に抑え、ネットワーク停止後の再同期を可能にします。また、CBU Edition と固有キー付きの物理ファイルを持つアプリケーションを使用しているときに、2つのシステム間でアプリケーションユーザーを分割し、ワークロードバランスを実行することもできます。
本番サーバーからバックアップ・システムへの転送、ミラーリング、レプリケーションについては?ほぼリアルタイムで行う必要があります。iClusterを使用すると、ソースとターゲットの間ですべてが1バイトずつ論理的に同期され、常に正確な状態を維持します。
iClusterは、低コストのインストール構成モデルを採用しています。論理システムやパーティション(LPAR)の数、ユーザー数、アクティブなCPUの数ではなく、物理サーバー毎のライセンス体系で、同じプロセッサー・グループ内ならば追加料金はありません。地理的な場所にかかわらず、メンテナンスを行っています。iClusterは、1つの製品、1つのインストール、モジュールなしですべての機能を備えています。シンプル。
iCluster is easy to administer and use
An intuitive user interface simplifies monitoring and troubleshooting, making it easy for any member of your IT team to run and operate iCluster with confidence. You can designate any server as the master (or metadata owner) for easy, fast configuration with updates to all other servers performed automatically. Instead of having to set up a special administration server on another platform or perform multiple configurations on multiple servers for switchover, the distribution and fidelity of the configuration is maintained within iCluster.
The automatic configuration command, together with iCluster's ability to configure once on the source and then push it out to the backup system, means your business is up and running much faster, with improved availability.
iCluster scales with your business
With superior high-speed replication capabilities, iCluster automatically scales to handle the size of your business and its transactional volumes. High-speed replication and compression minimizes the bandwidth and time required for re-synchronizations after lengthy outages or switchovers.
Transferring, mirroring, or replicating from production servers to backups needs to happen in near real-time. However, what good is speed if the replication is inaccurate? iCluster ensures that everything is logically synchronized byte-by-byte between your source and target, giving you unsurpassed accuracy.
New in iCluster 8.2
Each new release of iCluster includes features and enhancements to help improve performance. iCluster 8.2 expands existing parallel processing to separate, discrete functions that go beyond single-thread processing. Controls have been expanded to allow up to 50 parallel processes, speeding up activities such as analysis coverage reports, object count reports, and setting initial marked position for startup. This also translates to faster switchovers during the Change Role execution.
Major enhancements
Support for replicating Db2 system-period temporal tables
iCluster 8.2 fully supports replicating IBM Db2® system-period temporal tables and the associated history tables. System-period temporal tables were introduced in Db2 for i in the IBM i V7R3 release.
New group type *HADR for high availability and disaster recovery
For some critical business requirements, replication to a single target is not sufficient. More customers are now replicating to both a High Availability server as well as a remote Disaster Recovery server, increasing switchover complexity and putting more demands on the IT team. To help simplify three-way switching processes, Rocket iCluster v8.2 has introduced *HADR replication group types, we have added a new group type called *HADR for this release. This is a replication group with three nodes–a primary node, an HA backup node ,and a DR backup node.
Before roleswitch, the group replicates from the primary node to the HA backup node and to the DR backup node.
After roleswitch, the DR node will retain the same role, but the primary node and the HA backup node will switch their roles. The group will replicate from the new primary node (formerly the HA backup node) to the new HA backup node (the previous primary node) and the DR backup node.
This provides additional structure, automation, less complexity, and less risk when performing a switch between the production server and the HA server while invoking a switch of origin to the DR server
Parallel processing for better performance
The following commands and processes can now do their work using parallel processes:
*CHECKSUM sync check
DMOBJCNT
DMAUDITRPT
DMRPLCVRPT
DMMRKPOS for native objects (DMMRKPOS and DMSETPOS also use parallel processing for BSF. This support was added in iCluster 8.1.)
Sync check enhancements
Detailed attributes for printer device descriptions
SQL object detailed attributes
User profile individual attributes: initial program, job description, message queue, output queue
Initial library list for *JOBD
Sync check reports can be sent to email addresses
*CHECKSUM sync check can use parallel processing for performance
Minor enhancements
Replication support for SQL sequences as an SQL object type
Replication of journaling attributes for files (PF-DTA and BSF)
Options *MEDIUM and *HIGH for object compression in the DMSETSVAL command
Refresh of SQL triggers with CREATE TRIGGER statements longer than 32K bytes
Automatic creation of a second remote journal for a local journal if necessary
"Change object auditing" parameter added to DMCHGROLE and DMSTRSWO
Cascaded MQ Series replication
お気軽に電話にてお問合せください:
日本:045-670-8900(代表) 045-670-8901(技術支援)