Rocket Discover and IBM Cognos TM1
Self-service Business Intelligence empowers TM1 business users
Rocket® Discover provides a way for business users to easily access IBM® Cognos® TM1® cubes and quickly create rich visualizations that expose trends, outliers, and historical data, to derive insights for planning and forecasting.Get more from your investment in TM1 by enabling all your business users to work with timely data, giving them the confidence to make the right planning decisions.
Rocket Discover and IBM Cognos TM1 Customer Story
Access TM1 easily with self-service data visualization and discovery
Rocket® Discover for IBM Cognos TM1 connects directly to TM1 using the REST API.It takes advantage of native TM1 security and/or IBM Cognos Access Manager namespace security for seamless integration.Provide your credentials and Discover displays a simplified preview of the cube views—no modeling environment, middle layer, or scripting required.Discover does all the heavy lifting for you and preserves the hierarchical structure and data dependencies.All you do is choose the TM1 Server you want, followed by the appropriate Cube. 
Rocket Discover gives executives and line-of-business owners a fast, easy way to connect to, explore, and share TM1 data—without help from IT.This hands-on approach to BI visualization provides deep insights into TM1 cube data for more of the people who need it.
Rocket Discover makes TM1 more accessible, letting non-technical users directly access, enhance, investigate, explore, and share data insights that benefit the users and the business.
Gain flexibility to change views as needed
To make rapid, informed business decisions, users need the ability to quickly modify the way they access data.Discover offers the flexibility to directly change views without jumping through hoops inside TM1.To see data based on criteria such as country, GL code, or a different date range, simply drag and drop and nest dimensions in Discover until the right levelof data for analysis is reached—all without going back into TM1.Users who want to enrich views to test a theory or run through different scenarios to see how data is affected can easily create ad-hoc calculations.Custom views are stored on Discover instead of TM1, so users have ready access when they need it.
Blend data for a 360-degree view and easier collaboration
More information leads to better-informed decisions.The data stored in the TM1 cube alone does not provide the necessary 360-degree view many executives require.For the complete picture, they also need to analyze data stored outside the cube, such as enterprise data from mainframe to relational sources, to desktops.When users capture data from multiple sources in one dashboard, they gain new, valuable insights.
With Discover, users can create blended dashboards with visualizations from various data sources.For example, one visualization might display TM1 forecasting data, another, inventory levels and revenue from an IBM Cognos PowerCube, and a third, data from a file on a local machine.Users can then collaborate with stakeholders in real time simply by sharing the dashboard in the chat window.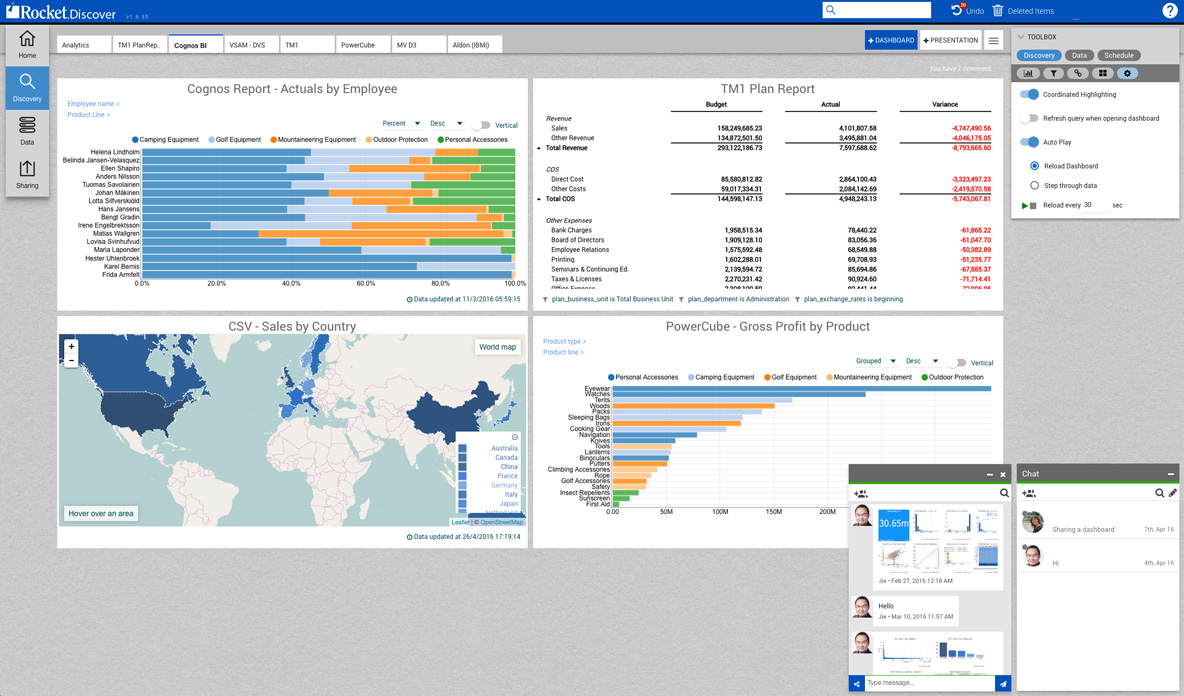 お気軽に電話にてお問合せください:
日本:045-670-8900(代表) 045-670-8901(技術支援)